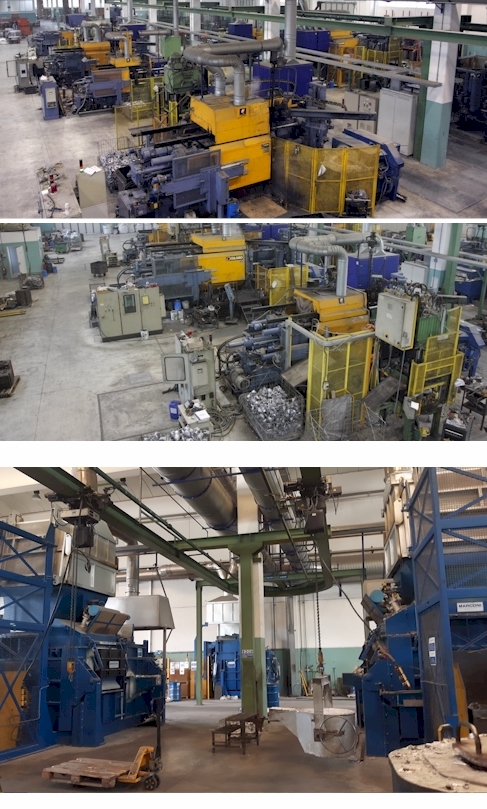 DEPARTMENT
PRODUCTION
7 production islands
FAP has 7 complete, fully automated production islands ranging from 300 TONNES to 1400 TONNES.
MACHINERY
1 New Machine MAICO 1400 ton. Hybrid
1 Colosio PFO1000 ton
1 Colosio PFO560 ton. Energy Serving
2 Colosio PFO500 ton. Energy Serving
1 Colosio PFO400 ton.
1 Colosio PFO320 ton. Energy Serving
The melting shop has 3 furnaces for melting simultaneously three alloys. Production can rely on a melting capacity of 3600 kg/h thanks to two melting furnaces at the head of two production lines. The liquid aluminium is transported by means of a monorail hoist, from the melting furnace to the electric holding furnace. Purification and chemical analysis of the metal take place at the beginning of each working shift, this way ensuring the quality of the castings..
The alloys mainly used are
EN AB 47100 (DIN 231)
EN AB 46000/46100 (DIN 226)
EN AB 44300 (DIN 230)
Altre leghe Rheinfelden
UNIFONT 94
SILAFONT
MAGSIMAL 59
We use a precision machining department with CNC machining centres for a complete machining of details.
ADDRESS

FAP SRL
Via Biella, 32 20025 Legnano (MI) P.IVA e CF: 05301590963

TELEPHONE

+39 0331 454984


OPENING HOURS

Mon-Fri H.08:30 - 12:30 / 13:30 - 17:30 CLOSING CHRISTMAS FROM 22/12/2016 TO 08/01/2017

E-mail

info@fap-srl.net